X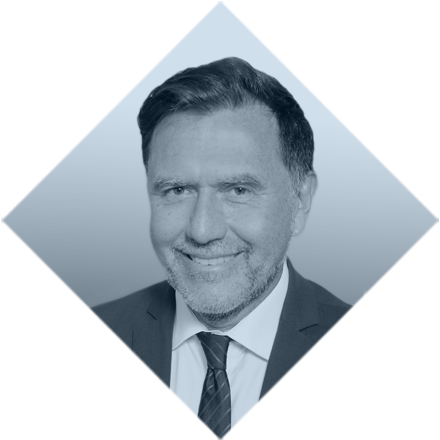 Letter from the Chairman
DR. DANIEL BERCOVICI, Chairman IFIF 2020/21
Dear IFIF Members, dear friends and colleagues,
The feed industry is at the center of one of the most significant challenges facing our societies in the next decades: how to feed a growing, urbanizing, world population expected to reach over 9 billion by 2050 and do so safely, sustainably and affordably. Looking ahead, as many of you know well, demand for livestock products will continue to increase over the decades to come.
In meeting these future demands, I believe sustainability – produce more with using less high-quality and safe livestock products at an affordable cost under efficient production systems – is not optional.
In the last two years, the global Pandemic has upended the way we do business and has highlighted to the world that the feed industry is an essential participant in the food chain. Around the world, the feed industry stepped up to meet the challenges of the Pandemic and ensure a continued supply of feed and therefore food. Never before was it as clear that our industry essential workers are vital to the global feed and food system, ensuring people can continue to eat, even in these challenging times.
Animal nutrition has a role to play to develop even better livestock farming for the human population, the planet environment, animal health and welfare under diverse production systems around the world. I believe that science-based standards must be further constructed and implemented to raise up and acknowledge the quality of production systems, food products and their contribution to a better animal health and welfare as well as the solutions to mitigate the environmental impact of livestock farming. Consumers want healthy nutritious and affordable food products, with an increasing consideration of the respect of the planet.
At the same time, we have to invest in the development of innovation and technology through a dynamic private sector and public research, in conjunction with an adequate regulatory frame and fair-trade rules. Together, we can tackle the challenges of animal nutrition to support the production of nutritious, safe and healthy foods.
I am pleased to report that the International Feed Industry Federation (IFIF) is fully engaged in meeting these challenges and providing a unified leadership for our industry in the food chain that provides sustainable, safe, nutritious and affordable food for a growing world population. And through all of this do our part to 'feed the world' now and in the future.
As you will see in this IFIF Annual Report 2020/21, our Federation continues to work on a number of strategic projects, which will positively impact the environmental footprint, the international regulatory framework, as well as the efficiency of our sector, while supporting capacity development for feed safety in key world regions.
Despite the challenges imposed by the Pandemic, in 2020 and 2021 our Federation has been able to continue its important work on behalf of our global industry.
In January 2020, many of you joined us for what proved to be our last face-to-face meeting at the International Feed Regulators Meetings (IFRM) in Atlanta. It was a very successful event and I am pleased that the IFRM, organized by IFIF together with Food and Agriculture Organization of the United Nations (FAO), continues to grow and attract government officials and IFIF members from around the world.
In 2021 we were able to hold the IFRM as a virtual event, and despite not seeing each other face to face, we broke attendance records and reached feed regulators and IFIF members from around the world, who traditionally have not been able to travel to Atlanta. I am confident that the IFRM will continue to be the essential meeting where the public and private sector can collaborate on essential topics for the feed and food sector, such as food safety and nutritional innovation.
The success of our joint IFRM, as well as our long-standing partnership on capacity development in feed safety and spreading of good feed manufacturing practices, are just two highlights of the strong collaborative relationship between IFIF and FAO dating back many years.
In 2010 FAO and IFIF published the "Manual of Good Practices for the Feed Industry", which has been released in English, Chinese, Arabic, French and Spanish and distributed widely to the feed sector professionals and operators.  In 2020, IFIF and FAO fully updated and revised this important manual to address the recent developments in feed production and benefit from latest scientific and technical knowledge. This new manual is already being translated into Chinese and Vietnamese.
IFIF is also an active participant in the FAO-led Global Agenda for Sustainable Livestock, and an official stakeholder in the Livestock Environmental Assessment and Performance (LEAP) Partnership. IFIF will continue to be strongly engaged in these efforts and I am very pleased that LEAP in 2020 finished an important guidance document on feed additives, which our IFIF experts contributed to.
IFIF also strengthened its long-standing relationships with the Codex Alimentarius Commission, the World Health Organization (WHO) and the World Organization for Animal Health (OIE).
Over the last two years, we launched a number of important new initiatives, which will benefit not only IFIF members, but also the wider feed chain.
Since January 2020, when I led a delegation of the IFIF Sustainability Steering Group members to Davos for a UN Food Systems Summit (UN FSS) kick-off dialogue, IFIF has been engaged with our livestock chain partners as we follow the developments and preparations for the UN FSS to be held on 23 September 2021.
As part of these efforts, we have strengthened and widened our collaboration with our Livestock Chain partners, including IMS, IPC, IDF, World Farmers Organization, HealthforAnimals, RTSB and Global Dairy Platform, coordinating input with them into the UN FSS, including via the Global Agenda and the Private Sector Mechanism of the Committee on Food Security (CFS).
In 2021, we updated the IFIF e-learning course on 'Good Production Practices in the Feed Industry', an online training programme based on the IFIF FAO Feed Manual of Good Practices for the Feed Industry, which focuses on increasing safety and feed quality at the production level. We are now translating the course into other languages, including Spanish.
I am also pleased that the important IFIF work on Nutritional Innovation continues. Many IFIF Members are engaged in this and the work has already highlighted how the feed sector plays a critical role in supporting animals' optimal health with high resilience capabilities to stressors through safe and high-quality feed (feed formulation and processing) and access to nutritional innovation.
Each of these initiatives and our successes would not be possible without our IFIF members' engagement in our expert committees, as well as the support of the IFIF Board of Directors and the IFIF Executive Committee. I want to thank all of you for your involvement and your continued support of our Federation.
Finally, over the last two years, our Federation continued to increase its membership and geographical reach and I want to again welcome all our new Members to the IFIF family!
I want to thank Alexandra de Athayde, IFIF's Executive Director, for her leadership and together with Sebastian Csaki, for their continued excellent work and dedication to IFIF.
It has been an honor and a pleasure to serve as your Chairman over the last four years and to lead the organization in such exciting and also tumultuous times. Thank you for the trust you have placed in me and it is my pleasure to report that I leave you with IFIF on a strong footing for the future. I know that together we will continue to work towards meeting future challenges and advance our industry for the benefit of people all around the world.
Yours sincerely,
Daniel Bercovici
Chairman 2018 – 2021
International Feed Industry Federation